You can read the full newsletter by clicking here:
Newsletter NI Q4 2020 – Kuta Mandalika, Next World Destination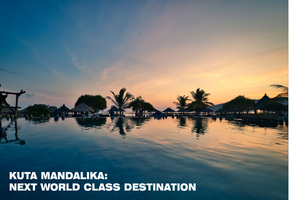 The global pandemic has had surprising consequences for South Lombok. First, the need to move out of dense urban areas have revitalised land inquiries and investment. Secondly, the government have had no option but accelerate their self financed "10 new Balis", including The Mandalika Project in South Lombok, to protect jobs and growth.
When investors or Lombok visitors refer to The Mandalika Project, they first have mixed feelings. Some tend to imagine a monster infrastructure dedicated to mass tourism, others see it as a doomed plan. It is time we decrypt the great ambitions and future lying underneath the largest project of its kind in Southeast Asia. Key infrastructure and sustainability will create the benefits for business success and community development alike.
The Mandalika Project is a US$3 billion eco-tourism destination to be developed on 1,175ha. Backed by the Indonesian Tourism Development Corporation (ITDC) and located in South Lombok, this Special Economic Zone (SEZ) is set to be the next world-class destination. It will consist of tourism-related mixed-use products, over 10,000 luxury hotel rooms (Pullman, Paramount Resort, Club Med and more!), an international street circuit (Moto GP 2021), luxury residences, a yacht marina, facilities such as golf courses, cycling and more.
WATCH Mandalika Update by Nagaindo
Alongside the ambitious project, private and local funding have contributed to uplifting the area: the desalination plant has been functional for more than 3 years, the Mandalika Bazaar market and religious center can offer plenty of parking space and host flow of visitors, our first supermarket celebrates its second year in Kuta and our international school its third… The pandemic is indeed a great opportunity to "persist and sign": an international hospital is being built 15min from Kuta Mandalika, the first Pertamina petrol station is ready, the new highway to Lombok International Airport to open by July 2021 as well as new terminal expansion.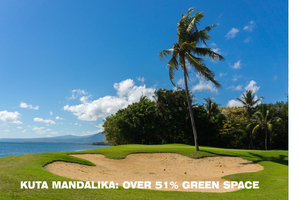 Key feature of The Mandalika Project is what they call the "green future" due to an emphasis on sustainable development. This combines a growing trend within the territory to place an emphasis on environmental protection in new resort builds, adhering to globally recognized environmental protection standards. Bali offers a blueprint from which Lombok can learn valuable lessons.
As a template for sustainable development, this project has dedicated over 51% of its green space to conserve the natural environment for native species, both flora and fauna, allowing only low impact activities such as cycling and hiking . It will incorporate environmentally friendly technologies such as organic solar farms for efficient energy use, innovative water treatments and recycling facilities, as well as advanced waste disposal systems and tidal energy from the world-famous power plant company, Atlantis.
Contact Nagaindo, we will be happy to share more insights and investment opportunities with you.
Jean-Marc Reynier
Nagaindo Director & Passionate Lombok Citizen
MyLinkedIn